Trending Products to Sell Online and Make Money
Features |
3 min
The best trending products to sell online and make money
One of the most important things to consider when selling products online is whether you're offering items that people want to buy. From CDs and vinyl to your old phone, knowing which trending products are most sought-after will help you declutter your home, and make some extra money too.
Our team have rounded up the top products to sell online, with help from Matt Rhodes of Honeypot Furniture, who discussed strategies and great ideas on how to find popular items to sell online. Once you know what treasure can be found in your home, selling your second-hand items could become second nature.
After you've sold one of your products to a customer, fill in the postage details on our quote calculator, confirm the price, and we'll deliver your parcel for you quickly and easily, wherever your buyer is based in the UK.
Why should you focus on trending products when building your offering?
Whether it's convenience or product demand, there are multiple reasons why selling the most popular products works so well for both businesses and independent traders. Matt told us in relation to Honeypot Furniture and the home-furnishing industry:
"It's important to offer customers trending products in order to stay current and competitive. Sometimes these pieces can stay relevant for a significant period and become permanent lines.
Trends change regularly, but it's knowing which pieces will have longevity, and remain perceived as stylish among a switched-on audience."
Showing your audience that you have an eye for those lasting products and pieces will help your potential customer base grow.
How do you find out which products are trending?
Knowing which items are in high demand isn't as difficult as you might think, as Matt explained to us:
"We regularly attend industry shows and work closely with designers for trend forecasting and blog features. If you don't keep up to date with social trends, you can be selling to an audience that's simply no longer interested in what you've got on offer.
On a more technical level, we use Google Trends to understand what popular items are for online audiences, and how we can easily capitalise on this. Above everything else, research is the key.
"Making sure you stay up to date with competitors and understand the shelf life of trending products can mean the difference between failure and success."
What are the challenges to selling trending products?
While it's great to know what the best things are to sell online to make money, there's a fine balance between jumping on a trend, and selling items you no longer want.
Matt says: "sometimes trending products can have a shorter shelf-life compared to more traditional or established products. If a product is overexposed or sells incredibly well across a wider range of audiences, this could deter those who like more unique and niche items for their homes, and this translates into clothing and accessories.
"For those who already have a more mature retail setup, there's the classic retailer's problem of overbuying stock, which can leave you with large quantities of items to shift once a trend plummets. This can be one of the most frustrating elements of keeping ahead of trends, but it's one that every business faces too."
The top trending products to sell right now:
Vintage clothes
As more and more of us start making sustainable changes, buying and selling vintage clothes online has seen a huge surge in popularity. If you have any 90's clothing gathering dust, or any classic t-shirts, jackets, or dresses hidden away, it's time to clear out your wardrobe, and start selling.
Pet products
Treating your pet to their own accessories is a must for many owners, whether they're a dog-lover or a cat person. Selling pet clothes, toys and beds is a great way to re-home your unused accessories.
Video games
Video games are always popular with young and old gamers alike. From the latest releases to buying replacement accessories, or purchasing retro classics, trending video games can be resold or dropshipped to make money across the internet.
Shoes
Classic shoes will always be popular in the resale market, particularly pairs that are unused or lightly worn. Plus, there's a variety of avenues you can go down when it comes to selling shoes too.
You can meet trends and sell styles that are currently in fashion or unearth rare trainers or high heels which are always being searched for by collectors.
Kitchen appliances
With the cost-of-living crisis hitting everyone, kitchen appliances have become one of the top trending products being sold online.
Slow cookers and air fryers have dramatically risen in popularity thanks to their affordability in the long run, making them some of the best products to sell through the dropshipping business model. If you have a working appliance sitting unused in your kitchen, it's sure to be snapped up online quickly, too.
Wireless phone chargers
Hybrid working has become the norm, and people are travelling regularly, meaning portable phone chargers are becoming more sought-after once more. Rather than needing to take your charging cable with you wherever you go, wireless phone chargers make travelling easier.
For print-on-demand businesses, you can create personalised designs for chargers and sell them to customers, or dropship general designs to buyers instead.
Lego sets
Lego's popularity with children and adults has endured for decades, so it's no surprise that Lego sets are some of the best toys to sell online. While buying them initially can be expensive, the returns you gain from selling them at future dates, especially limited-edition sets, more than makes up for it.
Throws and blankets
Perfect as gifts or cosy home purchases alike, selling soft throws and blankets online can help you make steady money. Soft furnishings often have longevity, so they're likely to sell consistently well over time.
Art supplies
If you're into arts and crafts, creating personalised products to sell online can be lucrative. Alongside this, selling art supplies such as paints, coloured pencils, and glue is a good chance to declutter in the process.
Art supplies are always in demand by craft groups, as well as independent artists and hobbyists, so are an excellent choice for dropshipping.
Water bottles and mugs
Water bottles and mugs are ideal products if you run a print-on-demand business.
Whether it's particular colour schemes, customising with buyers' names or their favourite characters, water bottles are some of the best products to sell online.
Personalised mugs are also in demand: be it as a birthday present, or just as a gift to yourself, mugs make for quick-win sales.
Wedding dresses and suits
Rather than splashing the cash on a brand-new wedding dress, many brides-to-be are turning to second-hand options. Your wedding dress, suits and occasion-wear can have a high resale value depending on their condition – and similarly to vintage clothing, are only likely to grow further in popularity.
Tote bags
We're all keen to avoid using plastic bags as much as possible, hence the demand for tote bags as a sustainable, reusable alternative. If you're running a print-on-demand business, tote bags are great to sell, as they can be personalised in so many different ways.
From particular patterns, graphic artwork, as well as names or phrases being added for a personal touch, tote bags are a winner in the online business space.
Mobile phone cases
Almost everyone in the world has a mobile phone; likewise, everyone needs a way of protecting their phone from damage. The answer: a case.
Mobile phone cases are excellent items to sell over the web if you run a dropshipping business. You can easily promote new designs, and with the release of each new smart device, you'll be able to take advantage of possible new customers needing cases for their new mobile phones.
Baby clothes and accessories
Baby clothes and accessories are some of the most popular and versatile products you can sell across the internet.
Whether you want to resell your children's outgrown baby clothes for extra cash or are interested in producing personalised baby products as part of a print-on-demand business, there's plenty of scope you can cover selling baby clothes online.
Although selling trending products is very much a fine balancing act, the happiness you can bring your customers, while decluttering your home, makes it truly worthwhile. And it's a view that Matt (along with the rest of the team at Honeypot Furniture) shares with us:
"There's nothing we enjoy more than receiving photos of our products looking fabulous in our customers' homes. Knowing you've contributed to a vision and your product is adding to that is something that should be valued."
Once you've decided which trending products you want put up for sale online, read our in-depth guide on how to set up your own ecommerce business .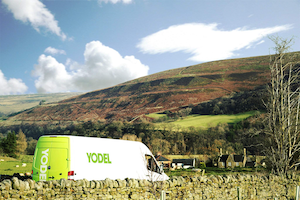 Send a parcel
Send parcels the easy way, from £2.42 (exc VAT)