How to Make Money Online in 2023 | Ideas For Making Money
Features |
2 min
Want to make money online? We've created a detailed guide with vital information, supported by exclusive contributions from online money-making experts.
How to make money online
As the Internet continues to give us innovative ways of communicating and working, it also opens up new ways for people to make money.
Choosing the best method for your lifestyle and interests is key, so we've compiled a detailed guide on how to make money online, to help you weigh up different ideas.
As well as our own guidance, we've got exclusive contributions from several online money makers, sharing their experiences to support you on your own side-hustling journey.
Can we help out with your new venture? Send single or multiple packages quickly and easily with Yodel.
Take on freelance work
If you're passionate about a hobby or have qualifications you'd like to put to good use, taking on freelance work is a great option for making money online.
Small businesses or internet entrepreneurs are always in need of writers, photographers, and graphic designers, as well as other skilled and experienced individuals. A strong, reliable internet connection and either a desktop or laptop, are vital to get the most from your freelance work.
Freelancing is a great addition to your professional portfolio; more freelance work means more experience. Charlie Day runs the highly successful Entrepreneurs Sales Lounge and offered advice on how you can get the most out of making money online:
"I built up three businesses (my first aged 21, which was a theatre school) and I realised along the way that sales were the most important thing to make them a success - and I got really good at it!
"I started by building my community - I simply created my free Facebook group and started to add value quickly to fellow business owners. I committed to a free live training every single Sunday and I still do this now!
"After word spread, as people found my content useful, I started to build an audience. Once I had grown my audience, I created courses and online content for people that wanted more support."
If you do decide to start freelancing, be prepared for the extra work and some personal admin. Remember, you must:
Be 18 years old to use certain freelancing platforms (but not all!).
Inform HMRC of your extra earnings, so they can apply tax if required. Otherwise, you could incur serious fines.
Make sure your freelance work doesn't interfere with a full-time role, or represent a conflict of interest to your employer, or you could be in danger of breaching your contract.
Once you've considered all of these factors, you can decide if you want to give freelancing a go, and see if it results in a boost to your bank account.
Fill in online surveys and join focus groups
Although it can be a pain when they drop into your inbox or pop up during a YouTube session, filling in surveys can be kind to your bank balance.
They won't make you rich, but surveys are essential to help businesses develop their products and their brand, so opportunities are often thick on the ground. Like every idea for making money on the Internet, however, research is important. Find out which survey providers will pay the most for your answers and move fast; they can have short deadlines or reach maximum participation quickly for each survey.
Joining online focus groups and research projects is another good way to make money while you're scrolling. You can help support the development of websites or provide your thoughts on certain issues that interest you.
If there's a flaw in these methods, it's that you can be rejected for not being eligible after answering a few questions. They usually won't explain why, which can be frustrating, though you can always move onto the next one!
Affiliate marketing
If you've got a lot of followers on social media or run a website that drives traffic each month, affiliate marketing is an excellent way to raise some cash.
By applying for a company's affiliate program, you can become an online ambassador for that organisation, which involves sharing links to products on their behalf. If someone purchases the product through the link you've shared, you'll get commission from that sale; this can gradually build up into a consistent source of money.
Neesha Rees of The Fun Money Club, started a blog which allowed her to make money online through affiliate marketing, and she gave us detailed insights into how to go about it:
"The main way I make money online is via my blog. My biggest source of income from this is affiliate income. Affiliate income is the process of recommending a product or service, and whenever someone signs up to or buys something via a link on my website, I get a commission.
"It's a great form of semi-passive income. I create content that answers questions people might have and then include links to relevant products or websites that I know my audience will be interested in. Once the blog post is set up and includes affiliate links, I only need to do minor tweaking throughout the year to continually generate an income.
"I started my blog WAY back in 2015. What started as a beauty and lifestyle blog has now become a website where people can learn all about the wonderful world of side hustling.
"You can literally blog about anything. Some of the best-performing blogs are on very specific, niche topics. If you have a passion or knowledge on a topic, that's a blog waiting to be created.
"Like I said, I started as a beauty blogger, but my true passion has always been making money online. You don't even need to be incredible at language or writing to be a blogger. It's more about the content you deliver, and whether someone else deems it valuable and informative."
In affiliate marketing, you get all the correct disclaimers and legal trademarks you need from the business you're an affiliate for, as this eliminates questions being asked that you can't answer. Once you've built trust with an audience, affiliate marketing can be a big money maker.
Print on-demand
Personalising products has become a lot easier thanks to the Internet and its wide suite of tools and assets. Due to a constant call for personalised products, on-demand printing can be a flexible and lucrative way to earn online.
Whether it's mugs, t-shirts, jumpers, wall art or cushions, endless items can be customised and personalised. If you've already developed an online brand presence through social media, print on-demand lets you create your own custom products that followers can buy.
You can either buy stock and set up your own printing equipment to manage the process yourself, or work with a 3rd-party supplier, some of whom will also do your printing, once an order is made.
If you do opt for the latter option, however, make sure you partner with a reliable supplier and/or printer, as they'll control the quality of your products. That way you can avoid disappointed customers and returns as well as possible. With the right planning and effort, printing on-demand can be a fun and fulfilling hobby as well as a way to make money.
Creating and selling your own products
Feeling artistic? Turning one of your passions into a money spinner is an effective way to make cash online. Many people have made a conscious effort in recent years to support independent online sellers, so now could be a good time to throw your hat into the ring.
Not only will you get to flex your creativity, but you'll also have full control of the products you sell. You might consider:
Knitting
Painting
Drawing
Calligraphy
Jewellery crafting
Pottery
Candle-making
The opportunities are extensive !
Bear in mind the amount of time, work and upkeep involved. Storage, paperwork, shipping and of course, creation, could easily become a full-time job if you're successful. But perhaps that's a dream come true!
Drop shipping
In the last couple of years, drop shipping has been growing in popularity as an ecommerce business venture.
Unlike a typical business, where you buy or manufacture stock and store it, then fulfil orders yourself, drop shipping lets you sell products on behalf of another company and pay them when you get an order. The company will also manage storage and delivery.
One of the main advantages of drop shipping is that it's incredibly flexible, with lower overhead costs. You can try selling as many different products as you like until you find the right one for you or invest time in finding a product that is selling particularly well, and promote it to reap the rewards.
On the other hand, because drop shipping is so popular, it's become highly competitive. You need to devote lots of time to making sure your promotions are seen, and profit margins aren't huge. A reputable and reliable supplier to ship the 'right' products out on time is essential, and you'll be the face of the products being sold, so you'll get the brunt of negative communication if issues arise . To avoid this happening, Yodel Direct's parcel tracking service helps you manage multiple parcel deliveries and collections; this way, you can keep your customers informed at every stage of their purchase.
Sell your stuff online
For years, people have been selling their stuff online, from clothes and books to unwanted tech items.
While you can go hunting on your day off for things to sell, some of the best things you'll find to make money from, are in your home already. Downsizing your wardrobe and decluttering other parts of the house could give you extra pennies and create space too!
Jamie Harkin, CEO of vintage fashion brand, Jamie Online Vintage, did this when he started out making money online, and soon became a success. As Jamie explained:
"In lockdown one, I started selling my old clothes from my wardrobe online. I soon realised there was a huge market for this and started to look at ways of importing vintage second-hand clothes from international countries.
"This blew up in a matter of months and Jamie Online Vintage was born. I started university mid-lockdown, but felt isolated in my room in London, with an entirely online course and few opportunities to make friends. So, I deferred my course to focus on growing my business baby.
"Since then, I have accumulated over 60 thousand followers on Instagram, almost 100 thousand followers on popular Gen-Z fashion-selling app Depop, have hosted a pop-up shop on London's Oxford Street and now employ a team of staff full-time.
"My clothes have been worn by many celebrities and influencers and the vintage and sustainable fashion movement is only growing, more and more each day."
Online selling platforms and marketplaces are all very different and take varying amounts of commission for helping you reach buyers. You don't need to stick with one website to sell your items though; you can pick several, so your stuff can be seen by as many shoppers as possible.
Remember, selling things online can be demanding, time-consuming and competitive. There will be customers who want to receive their order as soon as possible, which can be difficult to juggle if you've got a busy work and/or home life.
You also need to ensure that the products you're selling online are in a suitable condition to resell, and delivered in a timely manner. Our ad-hoc services for marketplace sellers, Yodel Direct, allows you to deliver your parcel directly to your recipient's door, with email tracking available to keep an eye on every stage of your parcel's journey.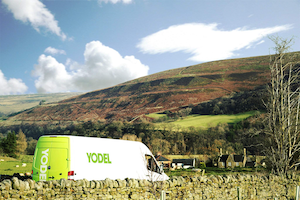 Send a parcel
Send parcels the easy way, from £2.42 (exc VAT)