How to Sell on Etsy & Set Up An Etsy Shop in 7 Steps
Features |
3 mins
How to sell on Etsy, with advice from successful sellers
Boasting over 96 million active buyers, Etsy could be the perfect way for you to start selling online, either as a creative outlet, side-hustle or full-time job. If you're not sure how to sell on Etsy, we've put together everything you need to know to get started – including expert tips and tricks from successful online sellers themselves, Jodie at sunshineforbreakfast, Imogen at imogenpartridge.com and Cassie and Ryan at Todmakes.
Fast, reliable delivery is crucial for gaining good reviews and growing your Etsy shop. Integrated directly with Etsy, our Smart Send service allows you to send multiple parcels safely and conveniently.
Fast, reliable delivery is crucial for gaining good reviews and growing your Etsy shop.
How to set up an Etsy shop
Step 1: Check your product qualifies for Etsy
Before you begin setting up your Etsy shop, it's important to double check your items don't fall outside of Etsy's guidelines, as this could leave you with a suspended account. These include;
Tobacco, alcohol and drug paraphernalia

Hazardous materials, firearms and weapons

Internationally regulated products

Items that promote hatred, illegal activity or acts of violence

Illegal products

Live animals

Animal and human remains

Recalled items

Real estate

Motor vehicles
You also need to ensure any products you list are your own handiwork or designs; you must credit any collaborators you work with, too. Alongside Etsy's own guidelines, check your products aren't prohibited or restricted by your chosen delivery partner to avoid any delivery issues down the line.
Step 2: Sign up for an Etsy account
Once you've decided what you want to sell, you can start setting up your account. If you have an Etsy account already, you can use that same account to become a seller.
If Etsy is entirely new to you, you'll need to create a seller account. This process can be done on the Etsy website or in-app. Here's a quick guide to help you through the process:
At the top of the Etsy home screen, click to 'register'

Fill out the form with your email address, first name, and a password

Read through Etsy's Terms and Conditions and Privacy Policy

Click to submit the form

Wait for a validation email, and click the link enclosed to complete your account setup

Once you're signed into your account, click 'get started'

Answer the introductory questions

Select your shop language, country, and currency, then select 'save and continue'

Choose your shop name, then select 'save and continue'
Remember to keep your shop's name short and sweet, so it's easy for buyers to remember you. Try and create a unique name that describes what you sell, so your new potential customers can instantly get an idea of who you are.
Step 3: Set up your payment and billing details
To get paid when you become a seller on Etsy, you need to connect your bank account to your Etsy shop - you can do this after your first sale if you wish to do so. You'll also need to add a debit or credit card to your account to pay your Etsy fees:
Listing fee (£0.16)

6.5 % transaction fee (4% + £0.20 payment processing fee)

15% offsite Ads fee (Etsy pays to advertise your items across the web through Ads: this is optional for sellers wanting to boost their products)
Cassie, from Todmakes, revealed that for her, paying the offsite Ads fee is worth it: "I also like that they do advertising for you - whilst it does take more from your profit, it's useful as a new shop as it helps you get more sales, which in turn helps boost your shop."
To enrol in Etsy Payments, you must have a residential address, a valid bank account, and a valid credit, debit or prepaid card.
For legal and tax purposes, you then need to choose whether your account is Individual or Business.
It's a simple process to connect your bank account to Etsy:
Under your bank information, enter your bank account details

Select save and continue

Add a credit or debit card
Next, to make sure any money from your sales is going to the right place, you'll need to verify your bank account. You can verify your bank account with Etsy's test deposits. Within 3-5 business days of enrolling in Etsy Payments, Etsy will send a small deposit to your bank account. You'll then need to enter that deposit amount into your Payment account, which will verify your bank account.
Step 5: List your items
Once your account has been set up, you can begin listing your products for sale.
On the Etsy desktop site, open 'shop manager' and select 'add a listing'. If you're using the app, tap 'listings' (or for new sellers, select 'your shop') then tap the + Create button.

To add photos to your listing, choose 'add a photo' to add files from your computer. You can add multiple photos at once.

To change the order of your images, select a photo and drag it to the left or right. The first photo in your chosen order will become the thumbnail for this listing.

Add your listing details:
Give your product a name
Choose your listing categories
Choose your renewal option (listings automatically renew after four months, and you will be automatically charged the applicable listing fee)
Add tags
Describe the materials
Add the price in your preferred currency
List any variations or personalisation options
Note whether you're offering a digital or physical item
Step 6: Set your preferred delivery options
When listing a new item, choose how you want to deliver your product. To make sending your items as easy as possible, delivery partners like Yodel integrate directly with Etsy.
This means that your account information is linked automatically to each delivery, saving you extra admin and making sure your parcels are delivered to the right address.
Safe and secure delivery is crucial to gaining positive reviews on Etsy, and the platform gives you options to choose your preferred delivery settings. You can opt to deliver Store to Door or Store to Store, for extra security from the second you drop your parcel off. door-to-door, or choose a convenient store for extra security.
For each location, specify the delivery service you will be using. You can select fixed prices, free delivery or choose to enter a custom delivery to set up delivery settings specific to each listing

If you are unsure what to charge, our parcel quote calculator shows what you or your customer can expect to pay for delivery

If you plan to deliver worldwide, select 'everywhere else' in addition to your own country when choosing the area your shop can cover, or select 'add another location' and specify the countries you'd be willing to deliver to. To remove a particular country, select the bin icon next to the country name.
Step 7: Publish your listing
Once you're happy with your listing, you can save it as a 'draft', 'publish' it or choose 'preview' to see how your items will look to shoppers. Once you choose to publish your listing, Etsy's £0.16 listing fee will be added to your Payment account.
At this point you can also spread awareness about your new listing by posting about it across your socials. Imogen at imogenpartridge, who sells watercolour greeting cards and prints, shares the benefits of additional organic marketing once your products have been uploaded. She said:
Etsy is a great platform for searches, but it is so beneficial to have your social media or websites talking about your Etsy shop and directing traffic. If you have a blog, you can expand on your Etsy items and give more insight into how they're made and then link back to your shop. You can also link that in your Etsy shop to allow customers to find out more.
FAQs
Is Etsy safe?
Etsy's Purchase Protection programme protects both buyers and sellers. Even if all the correct purchase procedures have been taken, items can still get lost in transit, arrive damaged or appear differently from listed images. In this case, Etsy may refund your buyer, while you'll keep your earnings too.
It is up to you as a seller to ensure all items are photographed and listed as accurately as possible. It is strongly recommended that all products are packaged securely and sent with official and reliable delivery partners like Yodel to avoid any delivery issues.
How do taxes work with Etsy income?
If you successfully sell products on Etsy, you may be required to pay tax on any profit you make – dependent on the amount of earnings you make. Etsy recommends consulting with a local tax professional to make sure you're paying the correct amount. For those based in the UK, HMRC has a guide on taxing additional income.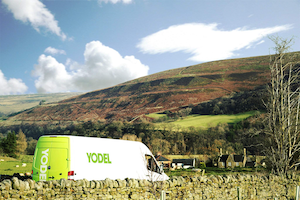 Send a parcel
Send parcels the easy way, from £2.42 (exc VAT)